The mouse who raised hell
Turner Studios kicked the day off with mousesports taking on HellRaisers. Both teams were down one game from the first day, and it was only fitting that the two European mixtures were matched against each other.
It seemed to be a brighter day for Nikola "NiKo" Kovač and co., as he topped the scoreboards with a score of 21-12. However, his team's dominant 16-7 victory wasn't achieved solely by his effort, as all team members put up frags, namely Christian 'loWel' Garcia Antoran. The team's latest addition from Spain tied with Kovač on 21 kills.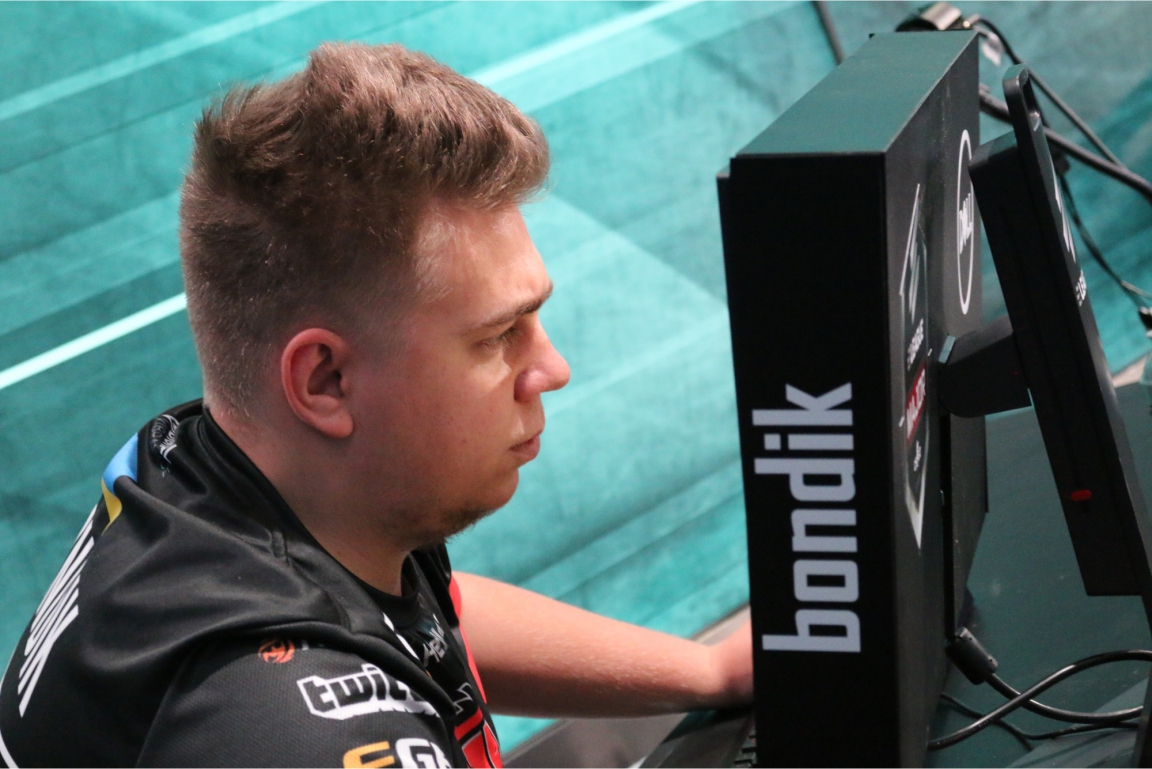 For HellRaisers, it was only Martin "STYKO" Styk who nearly broke even with 17-17. Moreover, mouz's performance today was superb, and rounds won by NiKo's multi-kills or Chris "chrisJ" de Jong's survival with 1HP contributed to the 16-7 flotsam.
mousesports vs.
HellRaisers
mouz: chrisJ, denis, NiKo, loWel, Spiidi
HR: ANGE1, bondik, DeadFox, Zero, STYKO
EnVyUs challenged Na`Vi on Cobblestone (Nuke remaining), a map on which the CIS team thrashed mousesports 16-3 on Day one
Despite Kenny "kennyS" Schrub and Dan "apEX" Madesclaire picking Na`Vi apart in the pistol round with a swift A push, Denis "seized" Kostin, the man in charge of those Born to Win, put EnVyUs under trench pressure soon after.
Egor "flamie" Vasilyev got out of control on the defense and finished the game with 25-10, as the Frenchmen struggled and barely scraped together three more rounds than NiKo's squad did the day before.
Na`Vi vs.
EnVyUs
Na`Vi: Edward, flamie, GuardiaN, s1mple, seized
nV: apEX, Happy, kennyS, NBK, SIXER
FaZe and SK, both of whom have won their matches on Day one, battled it out on Mirage in a match that might just be the pinnacle of the second round
Finn "karrigan" Andersen had a stellar performance since the very start, winning a 1v2 anti-eco clutch to save the GFueled team from having their economy restarted. FaZe got ahead by a margin, with credit due to their game plan or just plain luck, as the Brazilian economy had to undergo a painstaking reboot. Andersen embodied leadership in both tactical and fragging departments and led FaZe to a 9-6 half.
The FaZe was up as Andersen's men won the pistol rounds and the anti-ecos, and with everyone stepping in, they got as far ahead as 15-9. With six match points, Gabriel "FalleN" Toledo's leadership was put under test.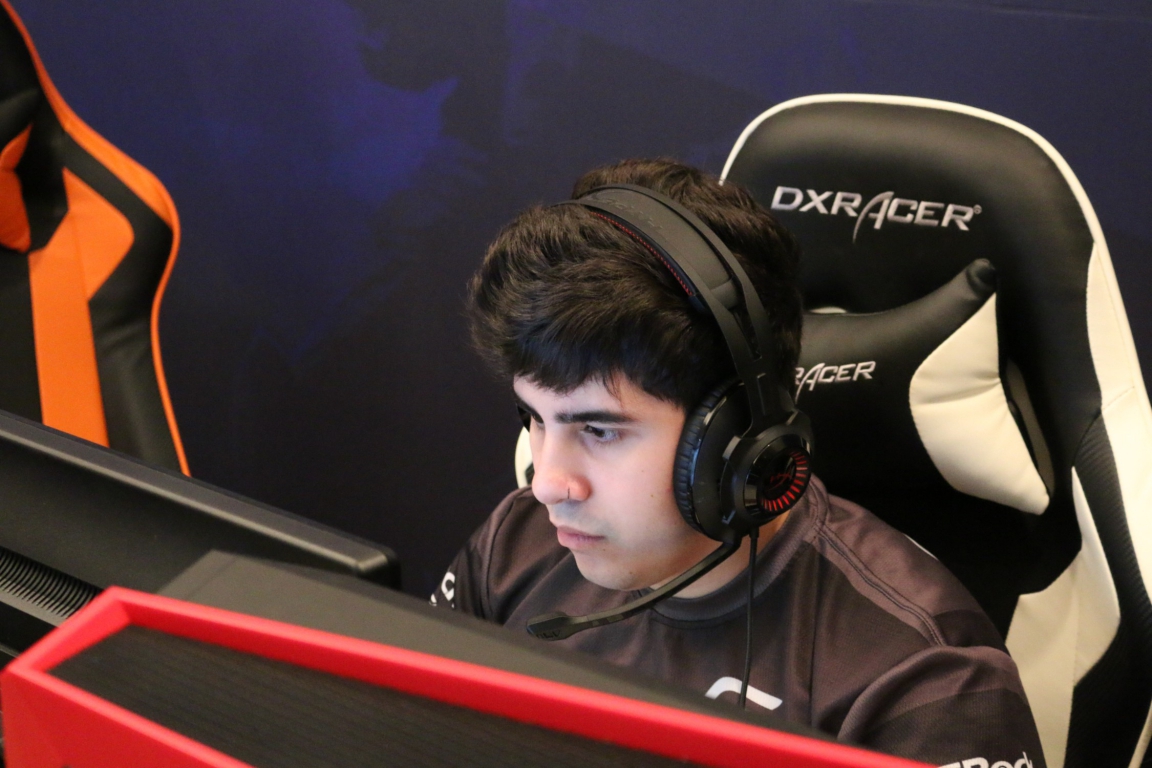 Nevertheless, you can never count a team with three out of twenty best players in the world - playing with one message and one mission - out of a game.
Fernando "fer" Alvarenga and Marcelo "coldzera" David, the world's best player of 2016, went manic, and with every round they won, facial expressions of FaZe's players got more grim. The stern was visible when Epicacio "TACO" de Melo clutched a 1v1 against karrigan to reach OT, but Andersen was dealt the real blow when SK won overtime 19-17.
FaZe Clan vs.
SK Gaming
FaZe: aizy, allu, kioShiMa, karrigan, rain
SK: coldzera, FalleN, fer, fox, TACO
Another close match started minutes later on Overpass with Liquid and FlipSid3, who lost their opening games
This time around, Liquid were able to close the game out - but it came down to the wire.
With a 16-14 victory and a score of 37-21, Jonathan "EliGE" Jablonowski sent FlipSid3 to the elimination pit, from which Yegor "markeloff" Markelov will have to fight his way out tomorrow.
FlipSid3 vs.
Team Liquid
F3: B1ad3, electronic, markeloff, wayLander, WorldEdit
TL: EliGE, Hiko, jdm64, nitr0, Pimp
fnatic rebounced on Cobblestone against the North with a 16-13 victory
The Swedish duo Dennis "dennis" Edman and Olof "olofmeister" Kajbjer topped the scoreboards and with their joint effort, fnatic saved themselves from facing elimination.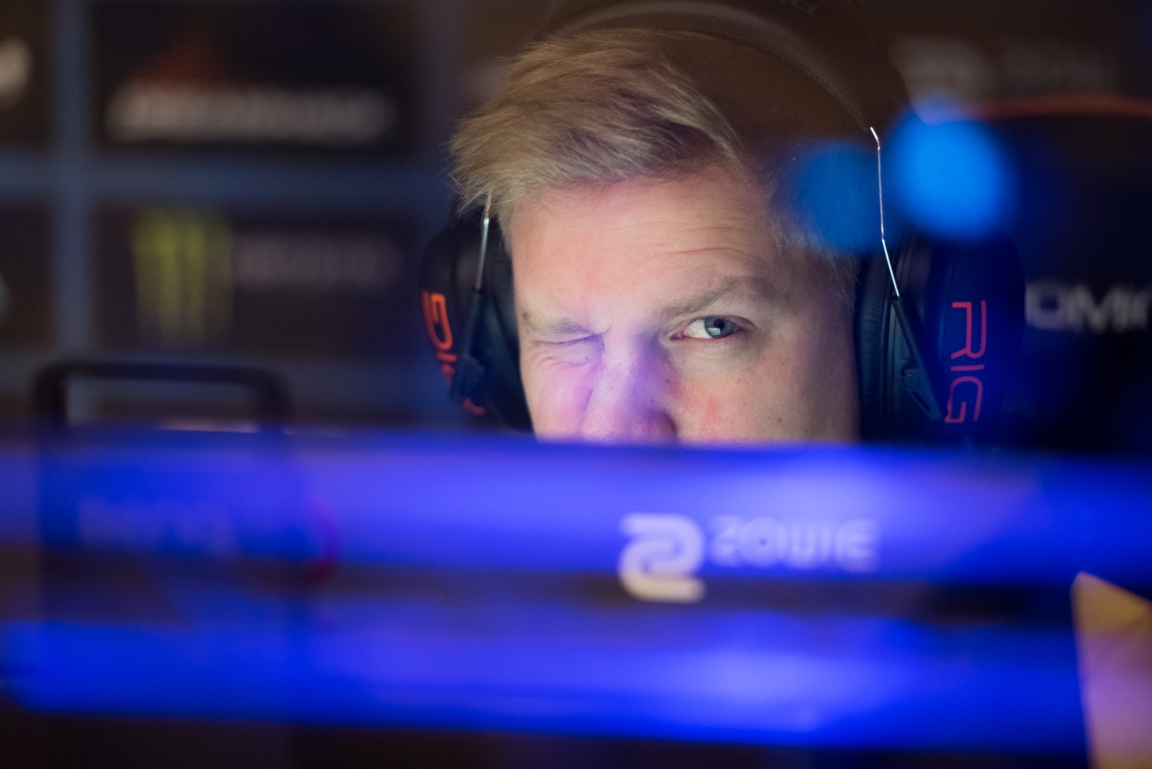 René "cajunb" Borg pushed himself to the limits, but even his 25 frags weren't enough to guarantee his team's first victory in the Major.
North vs.
Fnatic
North: cajunb, k0nfig, Magiskb0Y, MSL, RUBINO
Fnatic: dennis, disco doplan, krimz, olofmeister, twist
The train leads to Denmark
On Train, Nicolai "device" Reedtz and Peter "dupreeh" Rasmussen proved to be just as instrumental in Astralis's victory as dennis and olofmeister in fnatic's. In their 16-12 victory against OpTic Gaming, they collected a total of 54 kills (device 29-9; dupreeh 25-20).
And as the Train reached its Danish destination, OpTic joined the quattro of teams facing elimination (HellRaisers, North, and FlipSid3).
OpTic vs.
Astralis
OpTic: tarik, mixwell, NAF-FLY, stanislaw, rush
Astralis: device, dupreeh, gla1ve, Kjaerbye, Xyp9x
The Gs of Day one who opened the Major with victories played in the penultimate match of the day
As analyst Duncan "Thorin" Shields predicted before these two teams were matched against each other, one of these teams were likely to go on and finish the second day sitting on 2-0.
It was Gambit who came out on top on Overpass with a convincing 16-9 victory, with Dauren "AdreN"' Kystaubayev standing out with 28 kills.
Godsent vs.
Gambit
Godsent: flusha, JW, Lekr0, pronax, znajder
Gambit: AdreN, Dosia, HObbitt, mou, Zeus
G2 and Virtus.pro were the two last teams on the schedule, and the two ended up on Nuke
The Poles had a productive T side, ending a chaotic half 7-8.
Alexandre "bodyy" Pianaro opened the second half with a quad kill in the pistol round to push G2 forward. With Pianaro's numerous kills, G2 were up 13-9.
Virtus.pro acknowledged the threat all along and adapted themselves to close the game out, giving up just one more round.
Richard "shox" Papillon was caught expressing himself passionately on camera multiple times during and after the game, showing disdain within the team, while the Katowice 2014 Champions were all smiles backstage with Gambit as they're both 2-0.
Virtus.pro vs.
G2 Esports
VP: byali, TaZ, pasha, Neo, Snax
G2: bodyy, shox, ScreaM, SmithZz, RpK
Beneath are the current standings of the Eleague Atlanta Major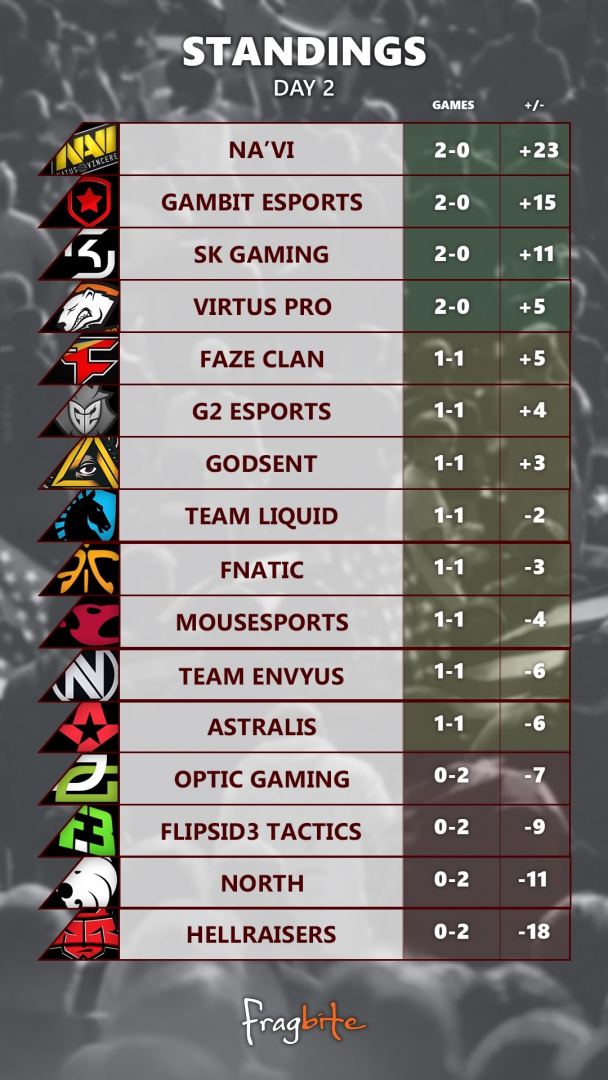 Stay tuned to Fragbite.se as we bring you the best of the ELeague Atlanta Major!
If you haven't, check out the
gallery
.