So you're one of the many players who are new to shooters that have been converted by PUBG and are struggling to improve, maybe you're a veteran of the FPS scene but have never played a battle royal game, or perhaps you are just looking for some tips you may have overlooked. This guide will be aimed at those of you completely new to the game, looking to get the basics down.
The thing that kicks off every single game of PUBG you will play is the drop. As the red light comes on and you stand up, hook up and shuffle to the door you'll be thinking about where to drop. Over time you will likely create your own pattern, preferences and play style when it comes to this but to start out there are two schools of thought. It all comes down to how and which parts of your game you want to improve. I'd personally suggest dropping into locations that aren't completely barren but are also not hot zones of action. In these sorts of locations you are likely to have time to find some weapons and some gear before heading out to find a fight that you feel comfortable taking.
Then there is the other idea, the trial by fire that is the closest thing we have to death match until they get around to finally implementing something that the community has been asking for since time began, but I digress. With this method you are looking to familiarise yourself with weapons and combat as quickly as possible and will be dropping in locations such as School, Georgopol, The Military Base and Pochinki to name a few. The aim of the game here is simple, find the first weapon you can, a helmet and a vest where possible, and shoot every target in sight. You're likely to die many times. You're likely to find yourself stood in a building that for some unfathomable reason only had a pair of pants and an 8x scope whilst iron man runs past the window with his level three helmet and M416.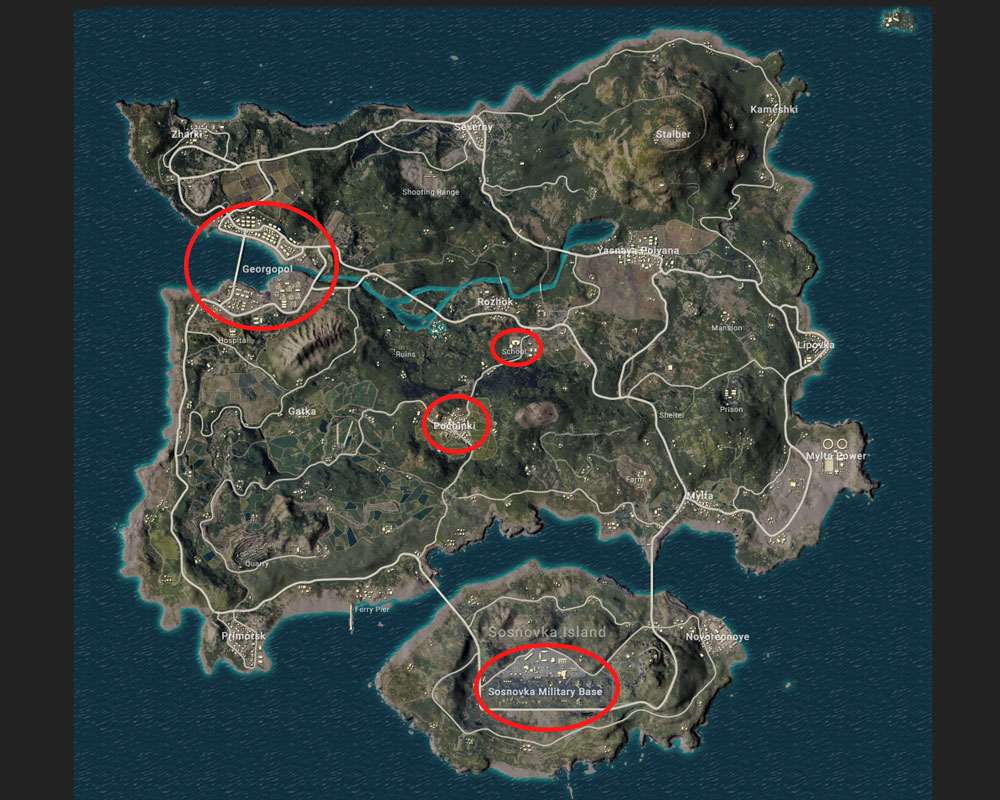 So you've decided on your strategy, next is actually getting to the ground. There isn't much I can tell you for this one as it is something you get a feel for the more you do it. However I will tell you, if you've played Fortnite it's not like that, you want to be dropping much closer to your intended landing zone as you end up closer to the ground a lot faster than Fortnite. You want to be landing as close to a substantial building as possible to maximise your chances of finding something worth wielding and to minimise your time spent running in the open. As you fall, use the Alt key and move your mouse to keep an eye on how many people are falling with you and where they look to be headed. Keeping an idea of where the enemy is at all times is crucial.
Now you're boots on ground and entering your first building of the game; at this point it's all about efficiency and speed. You want to be finding and prioritising the most important loot for your situation. If you know nobody has fallen into your location you can afford yourself a little extra time in deciding between weapons and attachments. However, if you know somebody is near you or you are unsure then priority number 1 is a weapon. Keep your eyes peeled for anything you can cause damage with, apart from melee weapons which at this point are rather a novelty. If you see a helmet or vest get that equipped ASAP also as any advantage at this point can mean life or death. I would personally advise using your assigned inventory button (I use tab) near loot and dragging it into your inventory or the required weapon slot with your mouse instead of clicking F on objects as it is far more reliable and speedy. Important note, when you do pick up a weapon, make sure it is on the correct firing mode as they all equip on single fire as default, the button for this is B and you will want your UMP, Micro Uzi etc to be on Full Auto not Single or Burst.
Another point I would like to make when it comes to "extended looting" i.e. once you're not in immediate danger is that you do not need to carry 5 of the same attachment. All too often I have come across somebody I have killed who is carrying three shotgun chokes, four 4x scopes and 5 vertical fore-grips. There is no need for this, at most you'd need two of most attachments unless carrying one for a teammate. Whilst on the topic of team mates, some duos or squads could really learn how to share. When you find an 8x or 4x scope but are only carrying a Micro Uzi, whilst your teammate is trying to use a K98 with the iron sights, please consider giving him the scope. Whilst other people's inability to grasp this concept of teamwork has likely saved my life many times, it's really not helping their chances of winning a fight, let alone a game.
From this point you've survived your initial landing point and have some basic gear, keep an ever-present eye on both the location of the safe zone and how long until the next safe zone will move in. Plan your rotations accordingly, and at a basic level try to keep your travel in the general direction of the next circle. Consider the need and possible locations for a vehicle if you are short on time or the distance to the next circle is too great for you to safely run, if you can't find one then enjoy your new running simulator. Keep your eyes and ears open for gunfire so you have an idea of which direction the enemy is for certain. When it comes to approaching the next buildings to loot, I'd advise always approaching with caution. Whilst many players close the doors behind them to better conceal their tracks, interior doors being open is a sure sign that if there is not still somebody around, they have definitely been here. Flipped or crashed vehicles are always alarming to me as there is a high chance whoever made their unplanned rest stop is hiding in one of the nearby buildings.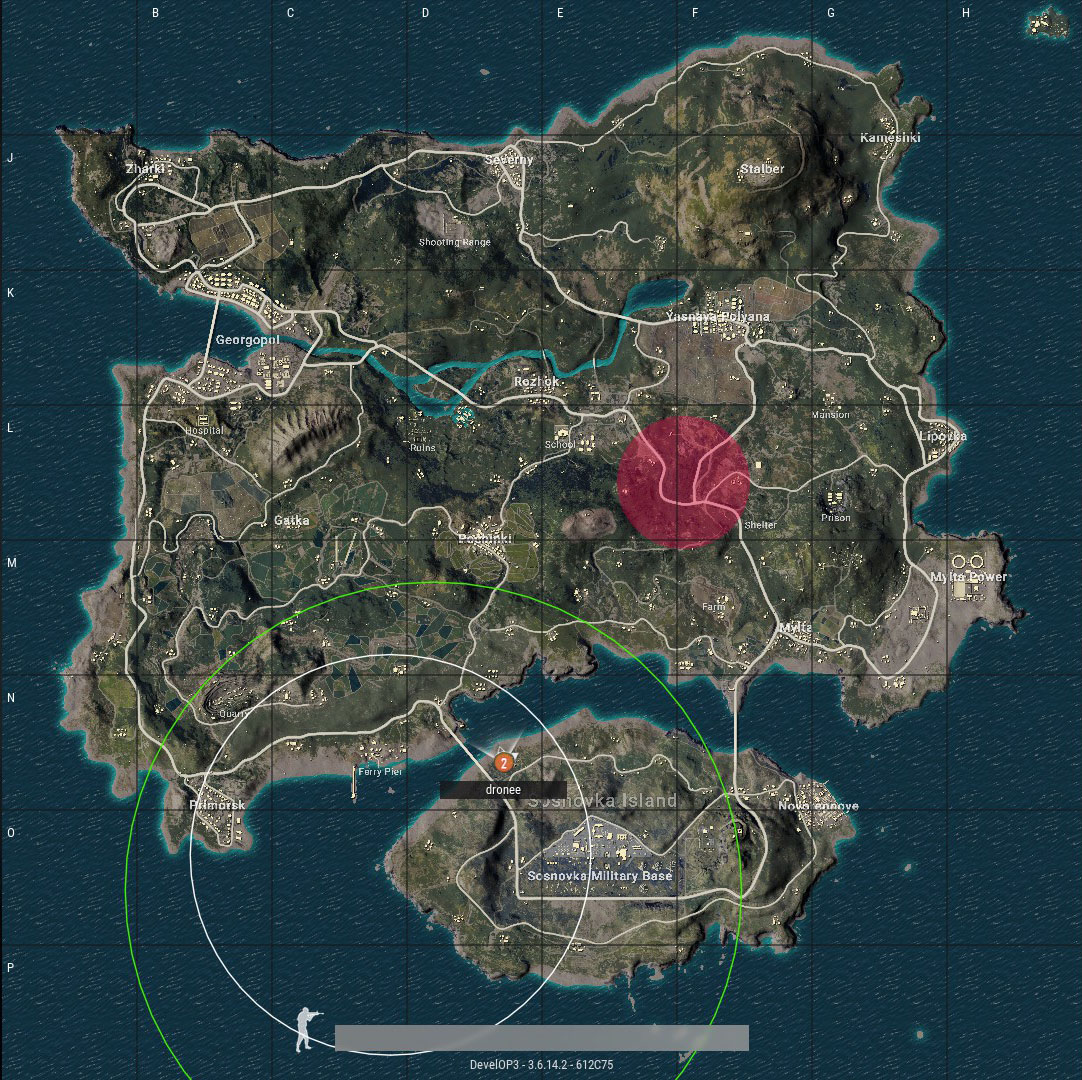 Don't treat the blue circle, or water, like a solid wall. Players with meds/healing can last a surprisingly long time in the circle the rest of us are desperately trying to avoid and have a habit of shooting unsuspecting players in the back as they exit it. The same goes for water, you may have seen or heard the community's reaction to circles that contain a high percentage of water and that is due to it lending itself to players hiding for as long as possible underwater, only coming up for air. Again, if there is a circle closing in round water and you have your back to it, whilst you can't be expected to watch it forever, don't assume Aquaman's rage filled reincarnation isn't lurking beneath.
Out in the open world I'd advise not spending too long sat completely still, a little bit of WASD when not on the move keeps the head-shots a lot harder to hit. When sat completely still your head is a target and it's far easier to hit, which is known to ruin your day. The same goes for looting a corpse, you just fought them and the firefight is not likely to have gone unnoticed. Whilst you're taking the loot try your best to spend as little time as possible making decisions and keep your feet moving.
When it comes to vehicles, don't panic click F when getting fired upon whilst moving, you will fly out like a fighter pilot hitting eject without a parachute. Shift will boost your vehicle to higher speeds whilst using more gas. All vehicles are prone to flipping, watch out for small sudden changes in terrain elevation as somehow the most unassuming bumps have a tenancy to act like the Great Wall of China causing you to take some damage. One culprit to keep a close eye on however is any and all bikes, as one moment you're flying along at warp speed and next minute you're doing your best impression of a fidget spinner. Ctrl will lean you forward in the air whilst space will lean you back in the air, Q and E will be your left and right leans in the air. For some reason you will want to be landing all jumps front heavy, so your front wheel making contact first, otherwise you're likely going to flip and die.
There are many, many other aspects, rules and nuances to this game that you will pickup as you go along that will continuously make you better, but the above should be the main points you will want to know in order to get a good start in the game. Good luck have fun gamers, and remember the golden rule, don't kill me.